Rank Number One In Google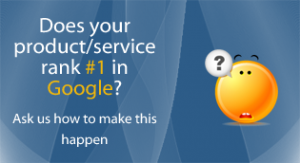 Ranking as high as possible, #1 in Google ideally, is what you should want your company website to do.  The primary goal of your website should be to interest prospective customers into doing business with you.  Search Engine Optimization (SEO) is the 'science' that helps the search engines (Google, Bing, etc.) understand that you are more important than your competition.
If you look at the fact that 1 of 2 Google searchers ONLY look at page one, you will definitely realize that ranking on the first page is key.
If you then realize that 75% of those who stay on page one ONLY look at the top 3 listings, you will will know that you will want to rank #1 in Google.
You should also know that almost 40% of all Google searches are now local searches which require a specific local optimization approach.  and that mobile devices used for search make up over 25% of all searches and is quickly growing with each and every year that passes. (which is yet another good reason to have a mobile website)
If you are in a competitive geographical area such as Kitchener, Waterloo, Guelph, Cambridge or the GTA (Toronto), you need to have a portion of your SEO focus on your local area.  This is where our Local Business Listing Optimization program would fit as either part of your overall SEO efforts, or as a standalone product to beat your local competition.
Our Search Engine Optimization products have proven results with examples to back it up.    We also have the ability to customize our SEO programs so that they better fit both your business goals and your budgetary constraints.  Contact AWS today to discuss your needs by calling us or completing the quick contact form below.
Check out the very latest in Kitchener SEO blog topics and research relevant information that can help any business tackle today's tough online marketing space.