Website Redesign Guarantee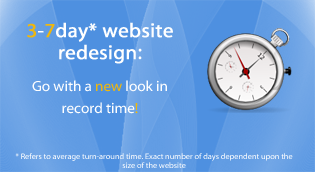 Website design and redesign takes time but it doesn't have to take as much time as it typically does.  We hear time and time again of stories of web designers not responding to repeated requests for changes and updates to an existing website.
Advanced Web Solutions believes that this shouldn't be the case and guarantees that we will devote our time specifically to your website design project in order that your business' website is up and running A.S.A.P. with its new look.
Exactly how quickly we are able to provide you with a new website is dependent upon your needs and the size of your WordPress* website.  Here is the process that is required to redesign your website:
Through conversation, ideas submitted by you and/or a discovery document completion, we will analyze and determine pricing**
A 50% deposit will be required at this time as well as any signed documentation
We will take all of the information (including your site login info) we gather from you  and develop a new look(s) that we feel will appeal to what you are looking for in your website redesign
Once you provide your approval via email, Advanced Web Solutions will work on this new look
The new look of your website will be put live within 3 to 7 days***  and the remaining amount will be required at this time
We do website design/redesign for several clients in the Kitchener, Waterloo, Cambridge, Guelph and surrounding area but not matter what your location (GTA, Toronto, Milton, London, Stratford, Owen Sound, Barrie, etc.), we are willing to discuss exactly what you want in your website project no matter if it is a redesign, complete new website, search engine marketing needs or any other online/internet marketing requirements.
*We generally work with WordPress sites but not exclusively.  Depending on the particular CMS that is in use on your website, the timeline may be extended or we may prefer to defer to one of our partners that specialize in your specific CMS
**pricing will be dependent upon the number of pages that your site contains or that you wish to have redesigned