Website Development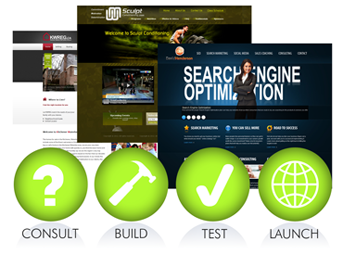 We here at Advanced Web Solutions prefer the term website development because in our minds, it is far more encompassing than strictly website design. Developing a website takes into account both how graphically pleasing it is to the visitor AND what the business requirements are of the website.
We will ensure you are happy with the visual aspect of your new or redesigned website no matter if you are in the Kitchener, Waterloo, Cambridge, Guelph and surrounding area, or if you are in Toronto, Calgary or Halifax.  Generally we do this through a conversation with you to survey what your expectations are in regards to the look and feel you desire.  We then take that raw information and present you with some interpretations of your idea.  From there we work to get the look right until you are satisfied.
The business requirements are actually far more important to the end success of your website.  It doesn't actually matter how pretty your website design is, if it hasn't been properly developed/built using search engine standards & guidelines as well as the properly researched information in which to leverage the proper architecture, your site is unlikely to draw in new potential customers and the revenue associated to them.
If you feel that your website could use a fresh new look or does not seem to be drawing in a many new customers as you had either hoped or anticipated, contact Advanced Web Solutions right now via email or call to arrange a time when we could meet to discuss the exact requirements your business needs to be successful online.
Please beware of website design companies, or individuals who do websites "on the side" are generally not well versed in SEO.  If they claim that they are, Advanced Web Solutions encourages you to do some research on their claims.  Far too often I come across websites that have been "optimized" but in fact have been optimized using techniques that are 2, 3, 5, 7 years old.  Heck, their own websites haven't been optimized at all!
The other issue we see all of the time is that the website has not taken into account things such as Conversion Analysis, proper Sales Funnelling, modern architecture, mobile friendly website design, consumer behaviour or Search Engine Optimization, from the outset of the web design project.  If the discussion is solely around how 'pretty' the website is supposed to be, run.  Pretty doesn't matter if prospective customers can't find it.