Search Engine Optimization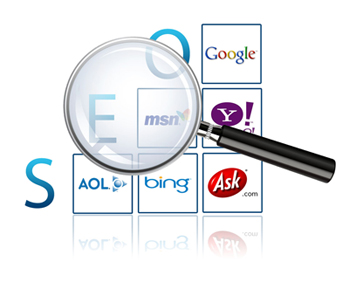 SEO, or Search Engine Optimization, is the driving force behind determining just how well your website performs within various search engines such as Google and Bing. If a website has been 'optimized' for what the search engines want, they will see it as more relevant for specific searcher inquiries.
When a user does a search and gets a SERP (search engine results page, example page 1 of 650, 500 results), the search engine determines the relevancy of each page on the internet and provides the user with the pages that are associated with the users query.  For each site or page that is seen being more 'right' or has more 'authority' than yours, they are put ahead of you.
Is your competition ahead of you?  What searches are they doing better than you?  Did you know that only 5 of 10 searches go beyond page 1?  Of those who don't go to page 2, did you know that 75% of them ONLY look at the top 3 results? That is why it is important to beat your competition to those new prospects and the potential revenue they can bring your business.
The Search Engine Optimization that we do for our clients in the Kitchener, Waterloo, Cambridge, Guelph and surrounding areas, is built around the 3 proven SEO principles of:
1. Proper Site Architecture – approved search engine standards & practices
2. Website Content/Copy – properly researched and relevant keywords/phrases
3. Links/Backlinks – building quality, trusted links from other valued sites
Did you make note that there is nothing on that list that requires your site to be 'pretty'?  Yes, having a pleasing, professional looking site is important once a user has found your site, but it do anything for making your site 'findable'.  If your site can't be easily found through a variety of high ranking keywords/phrases, it won't matter if you spend $2000 or $120,000 on the look of your site.
Search engine optimization is something that a lot of website designers say they do, but unfortunately they are generally much better at the 'pretty' than the core elements that can make SEO the key piece of your online marketing strategy. The other aspect web designers fail to help their clients do generally is, when they say they do SEO, they do NOT do all 3 elements of SEO – which means they aren't really doing SEO.  That's like a farmer saying they know how to bake a cake just because they grew the wheat.
To get more information on SEO for your product or service, please do not hesitate to contact Advanced Web Solutions via email or call us directly.  We'll be more than happy to arrange a time to meet and discuss in detail Advanced Web Solutions and how we can guarantee your search engine optimization results.  We're located in Elmira, Ontario so we are just moments away from Kitchener, Waterloo, Guelph, Cambridge and all the surrounding areas for your search engine optimization, internet marketing and website design/development needs.  If you have questions about SEO, please visit our Search Engine Optimization FAQ page or contact us directly for a more in-depth conversation.
Check out some of our relevant blog posts:
 Google is EXTREMELY important to your SEO efforts
Your business + SEO = beating your competition
Can Advanced Web Solutions back up their claims of doing quality Search Engine Optimization with a proven track record? – See the proof here